Narvik (Norway) | Ski Resort
Narvikfjellet is a facility for everyone. During the ski season, families and beginners can benefit from a separate children's ski band and several areas with jumps, children's games and park items. For the active and experienced skier, we have several technical demanding trails for those seeking a good dose of adrenaline. In addition, Narvikfjellet has one of Scandinavia's largest fall heights and excellent terrain for off-piste skiing.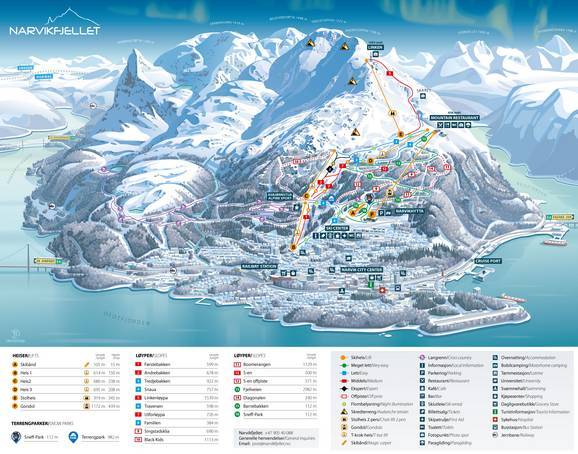 The lifts starts just above the city center, approximately 200 meters above sea level, and the lifts take you up to 1006 meters above the sea within 10 minutes. The spectacular views from the top of Narvikfjellet are unique, as the pistes go almost down to the fjord. Narvikfjellet has its own cable car, three t-bars and a chair lift. The cable car and t-bars take you to the upper mountain lift station at 656 m. The chairlift can take you up even further, to Linken at 1006 meters above sea level. From there you can enjoy 889 vertical meters of piste skiing. Alternatively, you can hike another 300 m up to Tredjetoppen ("3rd summit", 1272 m.a.s.l.), the start of several phenomenal off-piste runs. For this you may want to have a ski guide, who we can also provide.