Ski review by JC Ski & Brand content from Atomic
Performance meets elegance
The Atomic Cloud collection is one of the most successful on-piste ski offerings for women. As part of the brand's #sheskis initiative, the Austrian ski manufacturer is reworking the line for winter 2020/21, introducing new performance-enhancing features and a new, flattering look for the ski models. The top-of-the-line model Cloud 12 is also equipped with the new Atomic Flite Woodcore that is particularly light and agile. In addition to the well-proven Servotec technology, Atomic relies on two titanium inserts above and below the core, offering smooth runs as well as good damping properties and torsional stiffness. The Cloud ski line combines performance with an elegant look and is aiming at female skiers of all levels.
Our Review;
Atomic's Cloud Ski range really is a perfect consideration for any female skier looking for their next new pair of Ski. We have been impressed with the collection & how they ski. They are specifically designed for Women & not just a more feminine graphic.
The Range is quite substantial & there are 6 models to choose from. We will talk over the differences & which type of skier they are aimed at.
We tested them out on the SIGB Ski Test & our feedback is below. As a male i find it interesting to see the difference in Women's Skis, but we also have input from our Female testers of course, who range in ability.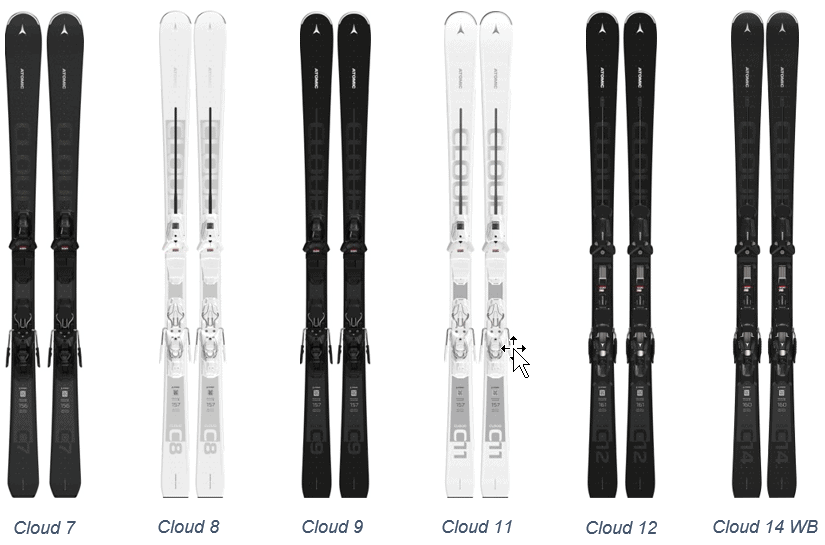 Cloud 7 – RRP £320 (including bindings)
Available in Black & White the Cloud 7 is a great entry level ski or your first ski purchase.
With a lightweight core & special flex zones it really is easy to initiate the turn & will inspire you with confidence.
At higher speeds it can get a little less stable, but it really isn't designed for that. 99% on Piste, but enough tip to cruise through softer spring snow or fresh snow on the Piste.
If you happy staying on Piste cruising Blues & a few Reds, this is a great Ski to consider.
Cloud 8 – RRP £360 (including bindings)
The Cloud 8 is the next step for the Cloud range & is a great option for any intermediate skier who likes spending time on Piste at varying speeds.
The Densolite core keeps the ski nice & light, which makes it easier to rotate, but also still solid in slightly faster turns.
If you want to progress your Piste skiing beyond Blues, they the Cloud 8 will give you a little more response than the 7.
For those gaining confidence on Piste, the Cloud 8 is a great option.
Cloud 9 – RRP £400 (Including Bindings)
The Cloud 9 is another step beyond the 8 & perfect for someone comfortable on Reds all day & enjoys taking on a few steeper slopes.
Atomic describe it as "elegant, flattering and always right wherever you wear it", which we would tend to agree with. On Piste, it works everywhere.
Easy to turn at slower speeds, more fun at higher Speeds & gives the Skier confidence. It's designated to 'Beginner/Advanced' on Atomic's site, but even a Expert would enjoy this Ski on Piste for a few runs.
It still is really 99% on Piste, but wide tip helps with softer snow & the stiffness gives more pop in the turn, which helps in choppy Snow conditions.
The Cloud 9 is our PICK OF THE RANGE!
Cloud 11 – RRP £500 (Including Bindings)
Atomic decided to Skip 10 & jump straight to 11 for our next Ski & we can tell. This Ski is another level for the performance skier really looking to ski hard on Piste & get back what they put in.
Focused towards more advanced Piste skiers who like quick turns, steeper runs & want more control at High Speeds. However, the Cloud 11 still works perfectly well in slower turns, it just bites a more than the lower series, which gives great grip in the turn, but it doesn't want to be in Snow-Plow mode.
Cloud 12 – RRP £600 (Including Bindings)
The Cloud 12 is the Ultimate Piste Ski from the Cloud collection & contains technology from the famous Redster Racing ski range.
You feel it, no doubt. Edge to edge, long turns, short turns & this ski delivers. It's still pretty light thanks to the Flite Woodcore, but also very stable.
If you want the Ultimate Ladies Piste ski to take you from top to bottom of the mountain, this has to be on your shirt-list.
If you don't enjoy skiing Black/Red Runs all day, you wont need this ski. If fast is best & you are a Piste skier, then you will have to consider this as your next ski!
Cloud 14 WB = RRP £700 (Including Bindings)
The last Ski in the Cloud range on test was the 14 WB. WB meaning 'Wide Body', but don't panic, it's not that wide!
The 14 WB is aimed at the Cloud 12 customer who wants a little more versatility to cope with more snow conditions. The wider body helps in softer Snow & gives the Ski a more 'All Mountain' feel.
It's still mostly a psite Ski at 75mm underfoot, but gives more stability at Higher speeds & is great in the longer turn. Being wider & a strong ski, it takes a little more work at lower speeds, but it's built for speed.
Consider this is the 12 is right up your street, but you want a little more under your feet & are starting to adventure more.
CLOUD SUMMARY
Overall an excellent Women's specific range that has something for everybody when it comes to Piste focussed skiing. You can find your local dealer for Atomic skis here FIND A STOCKIST
Thanks to our Ski Testers – JC, GC, AD, TN & BG for their feedback & input.